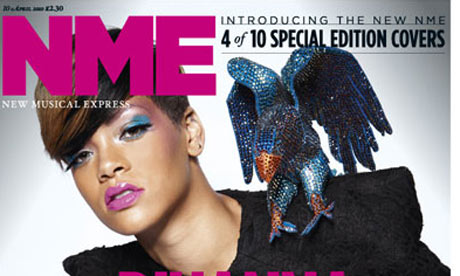 The NME relaunched last week, with 10 different covers, a new design, new logo, and lots and lots of editorial touches that show the confident hand of new editor Krissi Murison, the first woman to hold the position in the magazine's rocky 58-year history. It looks gorgeous – slick and grown-up and, inside, texty and modern. Despite sales dropping year on year, it feels as though things are looking up for the NME, and all because of Murison.
People – writers, labels, readers – seem to like her, like that she's trustworthy, that she's grown up at the NME, that her weekends are spent at gigs, that she's friendly, intelligent, brave (putting Simon Cowell on their Christmas cover) and funny (ditto). And it shows. Readers appreciate that, under her editorship, there's more to read, fewer in-jokes, less hype, some have said, more "thought", more authority.
And, in a magazine previously soaked in testosterone, there are girls. While Conor McNicholas, Murison's predecessor, was once vilified for his comments about Beth Ditto's "stilettos", when Murison was quoted as asking to please be fired "if I ever so much as joke about a woman in a rock feature", a thousand indie girls leapt from their swivel chairs and punched the air. Here's hoping this is a brave new musical dawn.